Global imports and exports of kiwi fruit declined to USD 3,757 million and USD 3,779 million, respectively in 2022.
Europe is the largest importing and exporting region of kiwi fruit.
China was the world's top importer country with a 13% share and New Zealand was the top exporter country with a 45% share in 2022.
Kiwi is a vitamin-rich fruit that originated from the Chinese Himalayas and is now produced worldwide. This fruit is extensively cultivated across countries like China, New Zealand, France, Italy, Greece, and others. The market size is estimated at USD 1.80 billion in 2023 and is expected to reach USD 2.30 billion by 2028. According to our research report, imports and exports of kiwi declined slightly in 2022, but the market will grow in the coming years due to increasing demand globally.
Region-wise Global Kiwi Fruit Market
The global kiwi fruit market expands across Europe, Asia, South America, the Middle East, and Africa. Here is a region-wise analysis of the Kiwi global market with essential stats reported in 2022.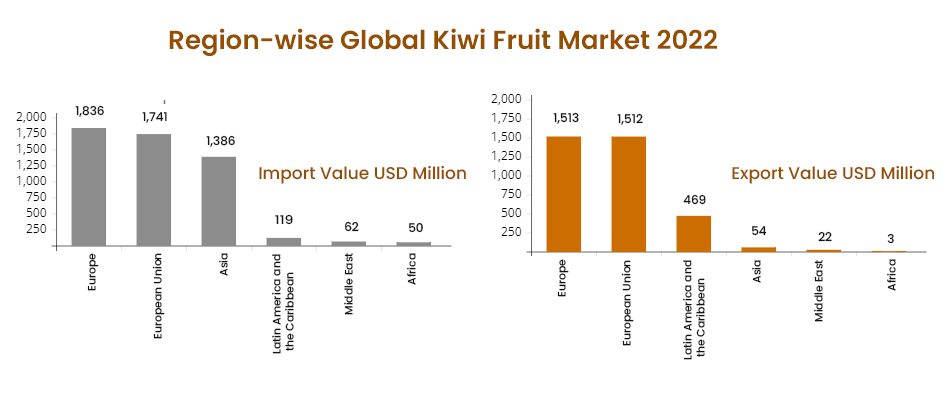 Global Imports and Exports – By Year
The yearly trends of the global import and export market show that the total trade of kiwi fruit increased in 2021, however, it declined marginally in 2022. The global kiwi's imports reached from USD 3,242 million in 2018 to USD 4,133 million in 2021 and later declined to USD 3,757 million in 2022. Exports of kiwi were USD 3,072 million in 2018, increased to USD 3,918 million in 2021, and declined to USD 3,779 million in 2022. See the data visualization in the given chart.
Kiwi Imports and Exports by Country
China is the top producer of kiwi fruit in the world, and it is also the largest importer with a 13% market share reported in 2022. Despite top producer, China is a net importer of kiwi because of the large consumption of the fruit. China was followed by Belgium (10%), Japan (10%), and Germany (7%) in 2022.
New Zealand is the largest exporter of kiwi in the world with a 45% share of global kiwi exports reported in 2022. New Zealand was followed by Italy (14%), Belgium (13%), and Chile (12%). Take a look at the chart of the world's top 10 importers and exporters of Kiwi with their values reported in 2022.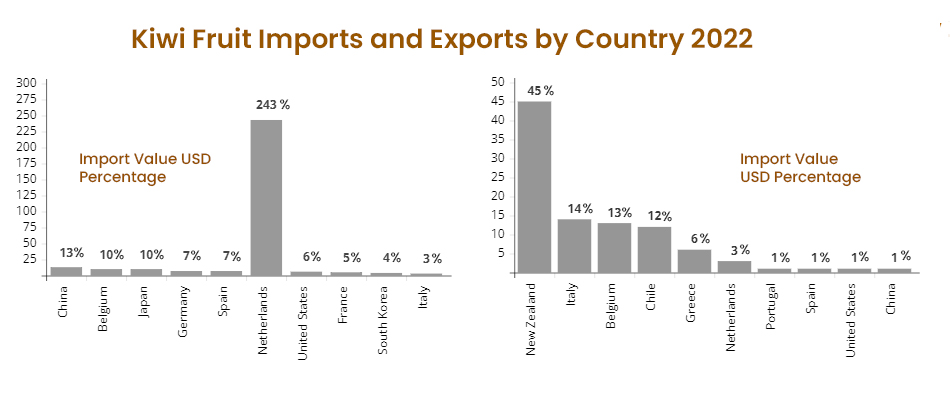 The demand for kiwi fruit is gaining traction among consumers around the world, strengthened by consumers' growing concern for health and wellness. Compared to other fruits, kiwis are naturally lower in sugar and higher in fibre. The market for kiwi has grown in recent years and is expected to reach a record high by 2028.