Germany inflation is on the rise again this year and has led to the downfall of the economy. The declining economy of Europe's largest economy has resulted in the market downfall and higher prices of most consumer goods.
Consumer goods such as dairy products, confectionary such as jam and bread, and fresh produce such as vegetables are affected by the inflation in Germany. So far, food prices have increased by 13.7% for the month of June compared to the previous year.
Energy Prices Due To Invasion
The Russian invasion of Ukraine took place on 24 February 2022 and marked the beginning of the withdrawal of Russian products. Not only the departure of commodities for imports, but Western nations also started to abolish their dependency on Russia.
The invasion led to a rise in the prices of most energy commodities, especially crude oil. Since Russia exports about 14% of the world's crude, the imports got much higher due to the rising demand. The high energy prices led to average inflation of 7.9%, impacting living standards.
The crude imports from Russia increased firmly throughout the time period shown in the graph. It surged frequently, starting from $1.14 billion in the first quarter of 2022 till the last quarter of 2022 with a $1.6 billion value, then declined in the first quarter of 2023, standing at $0.6 billion.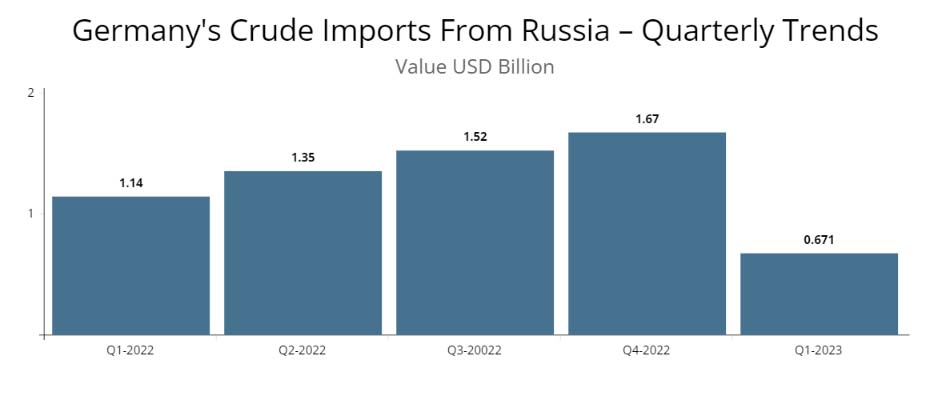 Germany Inflation Hitting Exports
Though reports claim that the inflation rate in Germany has come down gradually, there is still an impact on consumer goods. The hit on most consumer goods has impacted the purchasing power of German consumers, and businesses are influenced by it.
As mentioned earlier, the average food prices increased by 13.7% in June compared to the last year's value for the same period. On the basis of yearly comparison, the prices of confectionery surged by 19.4%, vegetables by 18.8%, dairy products by 22.3%, and more.
This rise in prices has impacted consumers, hitting on their monthly budget. Continuing the impact of the declined Russian crude, the scale is quite wide. Citizens are grappling with the daily and basic living dynamics such as paying for their electricity, fuel, food, and more.
Germany's economy has continued to suffer amidst the citizens' struggle with the ongoing situation. So far, the official statistics by Germany state that recording the metrics between the period of January 2023 to March 2023, the economy of Germany has shrunk by 0.3%.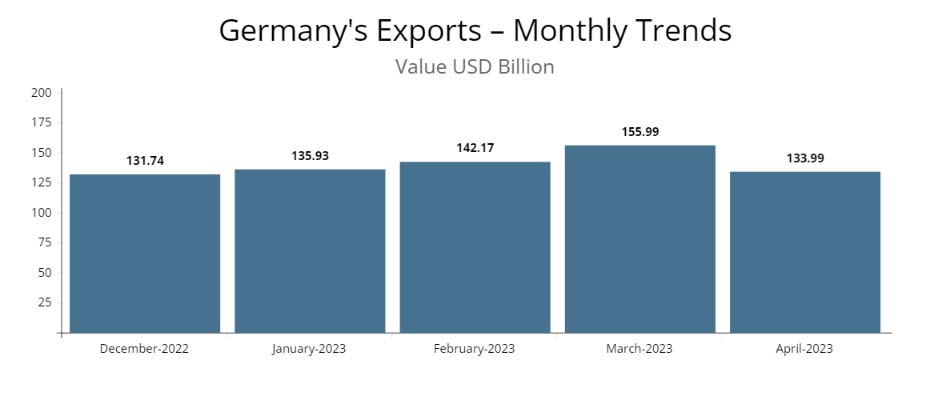 Reasons For The Rising Inflation
Rising Energy Prices During Invasion
Impact On Germany's Living Standards
High Prices of Consumer Goods
Decline In The Purchase Power
So far, according to the online figures, the inflation rate in Germany stood at 7.2% in April. Germany's inflation rate is lower than the UK's inflation rate which is 8.7%, however, the threat of a further impact on Germany's economy is still lingering over the European country.