Key Highlights
Global trade in 2022 was USD 48,561 billion, up from USD 44,586 billion in 2021.
EU's trade also rose from USD 15,587 billion in 2022 to USD 13,994 billion in 2021.
Germany is the net importer and exporter in the European Union.
Global trade is showing a sign of recovery in 2023 driven by the strength of the EU's imports and exports. EU's trade in 2022 was USD 15,587 billion, an increase from USD 13,994 reported a year earlier. The trade of countries worldwide has also increased from USD 44,586 billion in 2021 to USD 48,561 billion in 2022. The United States of America and China, the biggest economies have reported an upward trend in their imports and exports.
EU Imports and Exports 2022
In the world, the European Union imported goods worth USD 8,104 billion in 2022. And the exports from the EU reached USD 7,483 billion. The EU is one of the major regions where goods are transported across international borders. Among the European Union, Germany was the top importer and exporter country with a market share of 7%. This percentage accounted for the EU's total trade of about 33% in the world.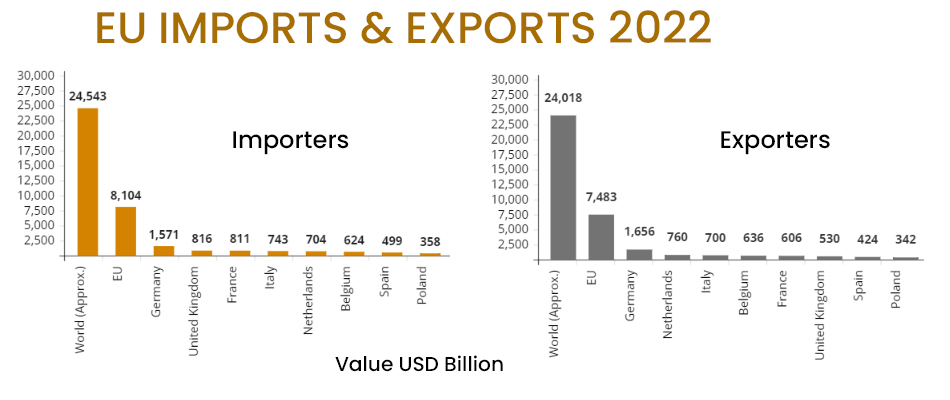 Global Trade 2022
Yearly, global trade has been on the rise for the past five years. Global imports totaled USD 19,675 billion in 2018, that dollar amount increased to USD 24,543 billion in 2022. And global exports totaled USD 19,334 billion in 2018, which rose to USD 24,018 billion in 2022.  Below given chart shows global trade from 2018 to 2022.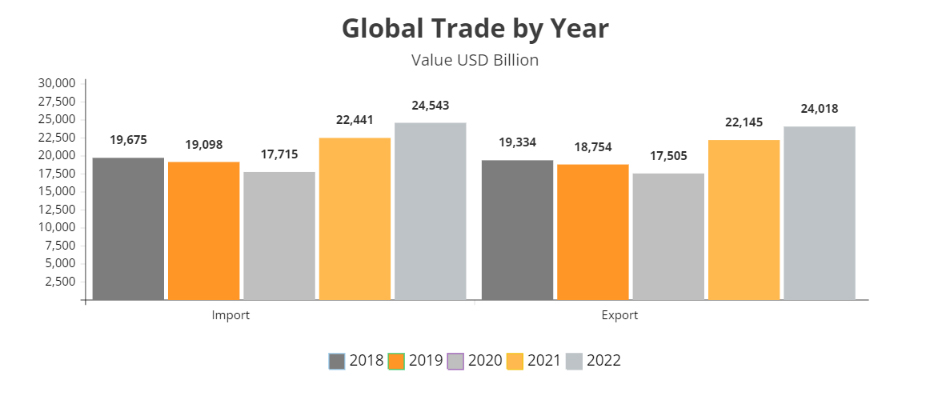 Region-wise, the United States of America and China are the biggest economies in the world that together accounted for more than 25% of the total value of imports and exports worldwide. The European Union trade shared over 30% of the total value of import and export shipments reported in the world in 2022. Below given chart shows the imports and exports of global countries and the European Union reported in 2022.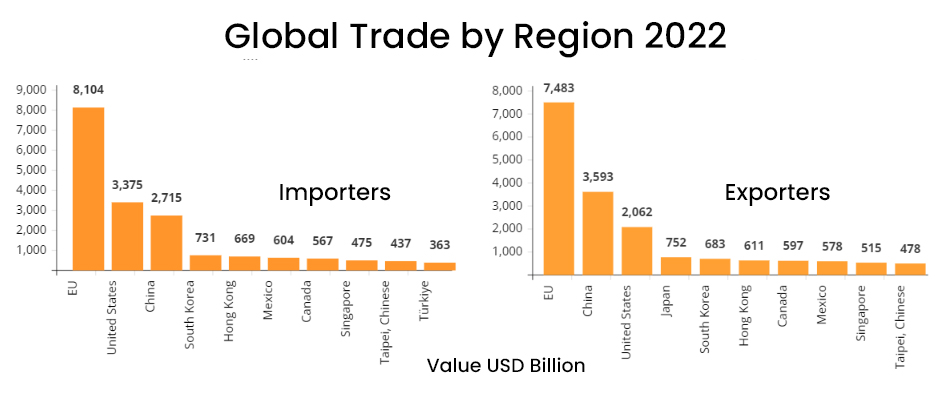 Global trade has recovered from the effects of the Covid-19 pandemic but has since had to face multiple macroeconomic and geopolitical challenges, including decades of high inflation, consecutive interest rate hikes, and the effects of the Russia-Ukraine war that has hit the supply chains. According to reports, global economic growth is projected to drop to 2.1% this year, from 3.1% in 2022.