Germany-China bilateral trade has been on an upward trend and is growing frequently each year. The year 2022 registered high values for imports increased, showing favourable signs of further growth, while exports between China and Germany declined.
So far, Chinese imports and exports have ranked among the top 5 values in terms of trading with Germany in the year 2022. The growth values of other countries are much higher than China, but focusing on China's trade with Germany, here is what trade statistics show.
Germany's Trade With China – Historically
Germany's trade with China is shown in the graphical representation of historical data below. The time range for the values of imports and exports in bilateral trade between Germany and China is from 2018 to 2022.
The year 2018 shows the total value of imports by Germany from China amounting to $125.1 billion, while the exports are $109.7 billion. In 2019, Germany's imports from China amounted to $123.1 billion, while exports amounted to $107.4 billion.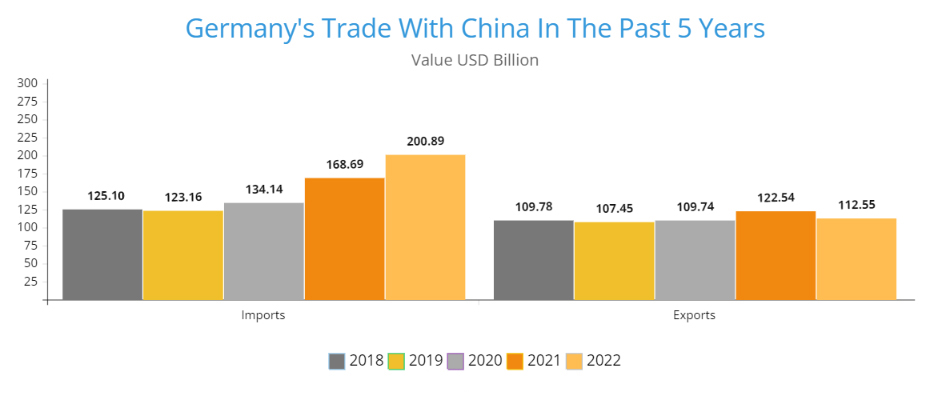 In 2020, the total imports and exports of Germany with China amounted to $134.1 billion and $109.7 billion, respectively. In 2021, total imports and exports amounted to $168.6 billion and $122.5 billion respectively, while 2022 amounted to $200.8 billion and $112.5 billion respectively.
Germany's Top Trading Commodities With China
The top imported products of Germany from China are—electronics ($61.3 billion), followed by industrial machinery ($39.0 billion), organic chemicals ($21.0 billion), furniture & bedding ($6.8 billion), and vehicles ($6.0 billion) along with other commodities as shown in the list.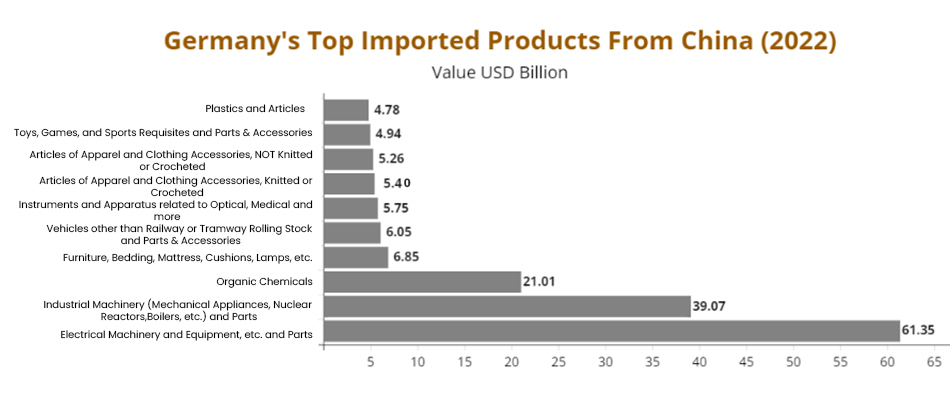 The top exported products of Germany to China are—vehicles ($30.6 billion), industrial machinery ($21.9 billion), electronics ($19.9 billion), optical & medical instruments ($10.1 billion), and pharmaceuticals ($4.8 billion), along with other commodities in the list.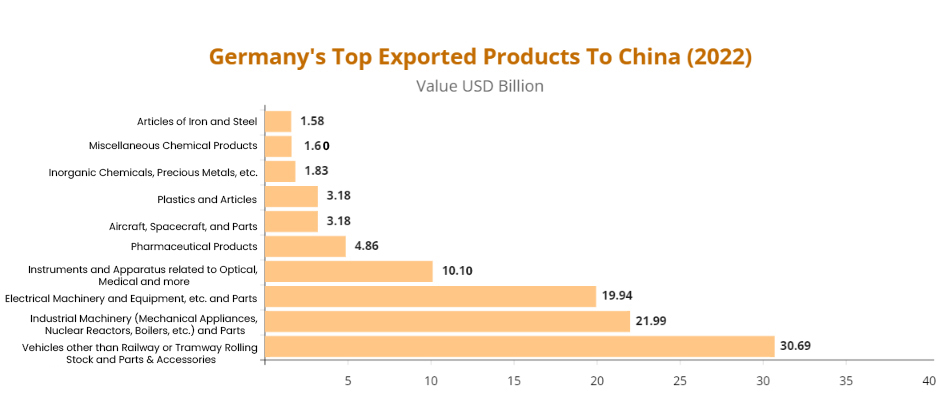 Germany's Top Trading Partners – With Growth Values
The below graph represents the growth values of the importing countries of Germany for 2022. According to Germany import data 2022, Germany's import growth values are as follows: China (19%), the Netherlands (11%), the USA (13%), Poland (58%), and Italy (0%).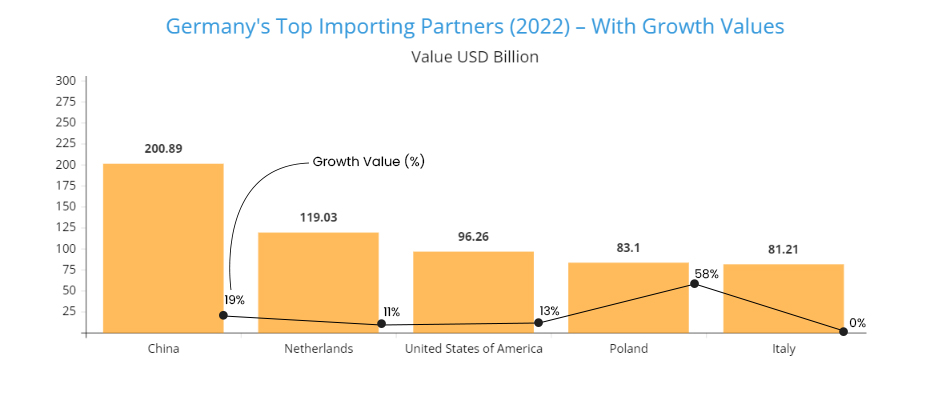 The below graph represents the growth values of the exporting partners of Germany for 2022. According to the export data of Germany 2022, the growth values of the exports are as follows: the USA (14%). France (0%), the Netherlands (4%), China (-8%), and Poland (2%).
The trade values of Germany and China show that both countries have witnessed significant growth in the value of their bilateral trade with each other. While Germany is lower on the exports to China, the imports from China in Germany show growth higher than the exports.