Countries including India, Russia, Argentina, and Turkey have put a ban on exports of more than 25 food products until December 2023, causing an increase in global food prices. For instance, the prices of some import-oriented food commodities, including ginger, onion, garlic, chillies, cumin, tomatoes, carrots, and some other spices increased manifold in Bangladesh due to the restriction. This decision has also severely affected the global food supply chain, most notably affecting the food security of developing nations. Let's check which countries have banned or put restrictions on exports of which food products.
List of Countries with Bans or Imposed Taxes on Food Exports
India, Russia, Argentina, Bangladesh, Afghanistan, and Turkey are some of the major countries that put bans and restrictions on exports of food products. Here is the list of countries with the type of food products that are banned and restricted by them.
| | |
| --- | --- |
| Country | Type of Food Product |
| India | Non-Basmati White Rice |
| Russia | Rice |
| Algeria | Pasta, Wheat Derivatives, Vegetable Oil, and Sugar |
| Morocco | Tomatoes, Onions, and Potatoes |
| Tunisia | Fruits and Vegetables |
| Bangladesh | Rice |
| Afghanistan | Wheat |
| Azerbaijan | Onion |
| Argentina | Cattle Meat |
| Belarus | Apples, Cabbage, and Onion |
| Burkina Faso | Miller Flour, Corn Flour, and Sorghum Flour |
| Cameroon | Cereals and Vegetable Oils |
| Kosovo | Wheat, Corn, Flour, Vegetable Oil, Salt, and Sugar |
| Kuwait | Chicken Meat and Grain |
| Lebanon | Processed Fruits & Vegetables, Milled Grain Products, Sugar, and Bread |
| Turkey | Beef Meat, Sheep Meat, Goat, Cooking Oil, Red Lentils, and Beans |
| India (Imposed Taxes) | 40% Export Duty on Onions |
| Argentina (Imposed Taxes) | Soybean Oil |
| Russia (Imposed Taxes) | Soybeans, Sunflower Oil, Wheat, Barley, and Corn |
Trade of Countries Banning Rice
On 20 July 2023, the Indian government announced that it would stop exporting non-basmati white rice effective immediately. The move was designed to help lower rice prices and secure availability in India. Russia and Bangladesh have also banned exports of rice to meet domestic consumption. Check export values of rice exported by India, Russia, and Bangladesh in 2022.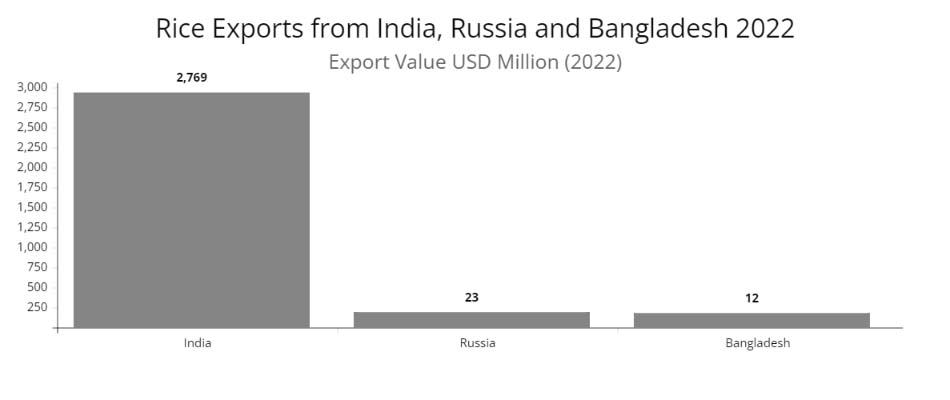 Trade of Countries Banning Onions
The Indian government imposed a 40% export duty on onions on 19 Aug 2023 due to concern over rising prices of onions. However, Azerbaijan and Morocco have put a ban on exports of onions. Here are the export values of onions reported by India, Azerbaijan, and Morocco in 2022.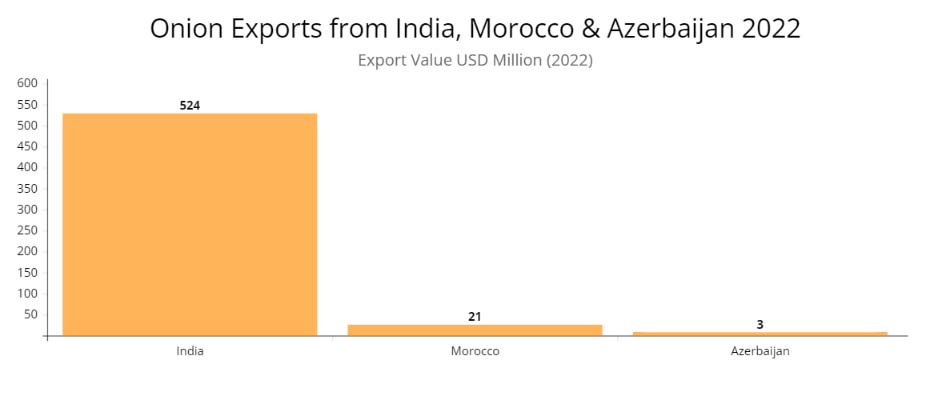 Food export bans are not new. Since last year's Russian invasion of Ukraine, the number of countries imposing export restrictions on food has risen from three to 16. These bans hurt the vulnerable people most because they dedicate a larger share of their incomes to buying food.