India will be able to meet its energy demands through solar energy in multiple industries such as electricity, automobiles, commerce and manufacturing. India's solar capacity of installation was 70.01 GWAC till 30 June 2023. Solar power stats in India ranks in fourth position worldwide in 2021.
The second-largest Indian market in Asia for new solar PV capacity and third globally 13 GW of additions in 2021. PV is most frequently used in solar panels. Solar panels absorb the energy of the sun through their PV cells when the sun shines on them. In response to the internal electronic field, the energy in the cell creates electrical charges. Electricity flows through the cell as a result.
Does India have a chance of competing with China in solar module production?
India was renowned for its being the largest exporter of top-notch solar modules until 2011. Therefore, the Indian government has taken the initiative to upgrade the strength of domestic manufacturing. For giving planning to implementation there were policies and among them are National Solar Mission in 2010 and the Modified Special Incentive Package Scheme in 2012. The sudden rise in solar export from India this year create a huge difference in growth.
Why is India a major player in the global PV export market?
A rapid growth in India's solar cell and module exports is accompanied by a shown effort to reinforce its domestic manufacturing industry.
Though, Chinese module producers have an advantage, because of facilities of larger production facilities. This results in less dependency on imports. Government support is also making a difference.
It is also possible that India's export growth is due to the USA's restrictions on importing modules from China due to child labor worries. The good increase in solar exports is due to the increased demand for modules from the USA at the time of restrictions imposed on module tracing from China.
The high demand for solar export from India is also because India is delivering residential solar panel that is typically around 5.5 feet long and just over 3 feet wide. On the contrary, commercial solar panels are typically 78 by 39 inches.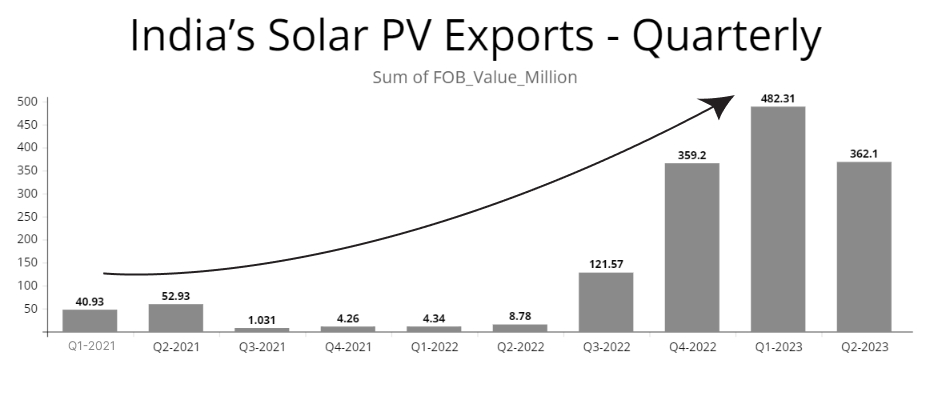 Solar PV module manufacturers in India & Indian Solar Modules Export Status
There are top companies in India having solar PV modules connected to a huge number of solar cells for the provision of voltage and power output. Needless to add, Tata Power Solar is the largest one among the others. This converts sunlight into electric power and helps out many solar companies by increasing current.
Indian Government is working towards making India one of the most wonderful companies for Foreign Direct Investment. There is a massive improvement in solar panel export from India to the United States quarterly. This alternative is saving electricity bills and securing the future of natives.
Solar Equipment Export-Import
During the year 2022, India exported solar PVs and modules worth Rs. 4,640 crore. By 2030, India plans to improve 280 gigawatts (GW) of solar capacity, earlier a couple of years back its capacity was reliant on China for 80% of the equipment.
Increasing Demand for Solar Panels in India with the Use of Smart Grid Technology
With the growing danger of climate change, excessive carbon emissions happen to be in the picture. This makes several people realize the importance of solar panels in India day by day. It is economical and with the support of different digital technologies and automation such as smart grid technology alters energy management with ease. The advantages of smart grids make the utilization of renewable energy sources convenient. The exact monitoring of solar, water, wind, and nuclear power will bring to homes and other places where electricity is required.
Western Market or Domestic Market for Indian Manufacturers
Due to the highly competitive market of solar energy in which independent power producers operate, Indian manufacturers realize better profits in the Western market than in the domestic market, according to industry analysts.
The India Solar Energy Market was projected at USD 38 billion in 2022 and is likely to range around USD 238 billion by 2030, rising at a CAGR of around 40% between 2023 and 2032. As a result of their interest in saving money and reducing their carbon footprint, proprietors, and landowners are the ideal target people.
Indian company's emphasis on export marketplaces, and Solar exports of India will increase with each passing year. During this year's export season, exports are likely to triple or quadruple.
Companies Dropping Reliance in China
Reducing dependency on China and other foreign suppliers in strategic areas such as technology products like solar power would make a huge difference for back-to-back companies. Changing demography is not stable. Though, India has a good opportunity to export Solar PV to the USA. Increasing the volume of supply is a fruitful option for the betterment.
Solar PV Junction Box Manufacturers in India
The PV market is revolutionizing and this is booming from technology. Whether it's technology, scale, or customers, there is a big transformation. Shifting to higher output modules is suitable for electric connection from PV Crystalline module easy and reliable solution. India and China are the largest junction box manufacturer.