Logistics is widely known as the process of coordinating and moving goods such as food, equipment, liquids, materials, and inventory from one location to the storage of the desired destination. It is the management of the flow of goods from one point of origin to the point of destination to meet the requirements of customers. Logistics management focuses on the efficiency and effective management of daily activities concerning the production of the company's goods. Here is a look at the logistics market in the UK and Europe.
Logistics Market in the United Kingdom
The United Kingdom logistics market size is estimated at USD 134 billion in 2023 and is expected to reach USD 166 billion by 2029, growing at a CAGR of 3% during 2023-2029. The rise of transport and storage accelerated in the two years from 2019, following Brexit and the Covid-19 pandemic. Russia's invasion of Ukraine in February 2022 suffocated global supply chains, raising inflationary pressures on energy security. The Government of the United Kingdom increased its investment in new construction and maintenance of national infrastructure for better transportation connectivity and warehousing facilities. Here are the UK's imports and exports reported from 2018 to 2022.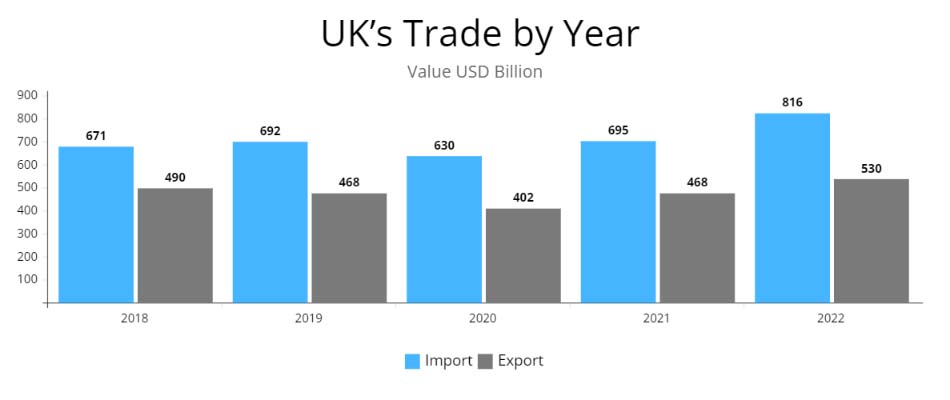 Logistics Market in Europe
The European logistics market is dominated by countries like Germany, France, Italy and Spain. Road freight is a major of transport in the region. The German government recently allocated a fund of EUR 530 million (USD 578 million) to improve bridges across the network. The logistics investments in Europe reached approximately USD 34 billion in H1 2022. The E-commerce sector has grown rapidly in the past few years, especially during the outbreak of Covid-19. Consumers shop for goods online due to door-to-door delivery. According to a report, the Europe e-commerce logistics market was valued at USD 47,267 billion in 2021 and is expected to reach USD 180,085 billion by 2029. Here are the import and export values of these countries reported in 2022.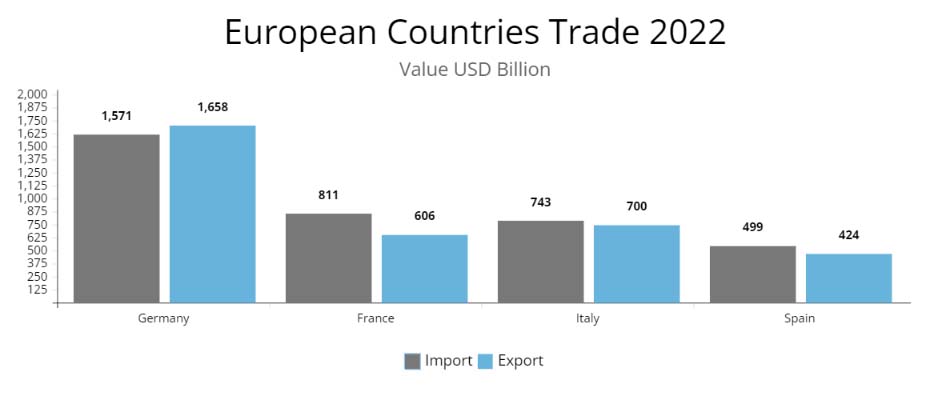 Market Challenges
There are certain challenges that the logistics sector is likely to face in Europe. Regulatory issues and the implementation of strict rules imposed by the European Union are expected to obstruct market growth. Also, concerns regarding system security are projected to challenge the e-commerce logistics market in the forecast period of 2022-2029.
Market Opportunities
The incorporation of advanced technologies such as Artificial Intelligence (AI), and Machine Learning in the logistics industry extends profitable opportunities to the market players in the period of 2023-2029. In addition, an increase in the number of smartphone sales will further expand the market.