Indonesia's government is coming up with a bank scheme for the exporters to get financial support to keep their gross income within the country as many of the Indonesian exporters keep their earnings across the borders and a new rule implemented new measures.
The Indonesian government is committed to uplifting the Indonesian exporters after receiving backlash on one of their announced new rules. The financial support from the Indonesian government has been announced following a rule introduced by the authorities earlier this month.
Indonesian Exporters' Top Destinations
The shown-below data lists the top destinations of Indonesian exporters to sell their products, along with their respective trade values. The represented export data of Indonesia provides insights into the countries most preferred by exporters and the income they keep.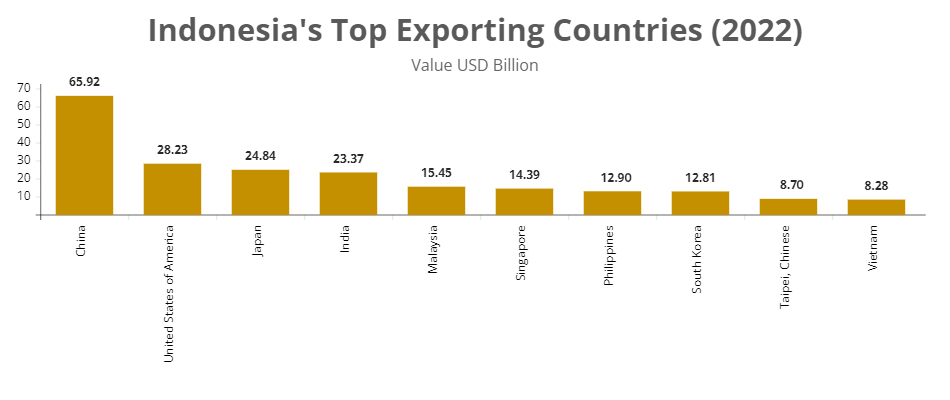 According to Indonesia export data 2022, the top exporting destinations are—China ($65.9 billion), followed by the USA ($28.2 billion), Japan ($24.8 billion), India ($23.3 billion), Malaysia ($15.4 billion), and other countries shown in the list along with their respective export values.
The New Rule On The Exports
The new rule introduced earlier this month received backlash from business groups and complaints from Indonesian exporters. The new rule consisted of retaining 30% of their proceeds on every custom documentation for exports worth at least 250 thousand dollars.
This new rule has initially involved the natural resource exporters who 'must' retain a specific percentage of their earnings as mentioned above (30%) for three months in the domestic financial system with a cap on the amount of the exports aforementioned.
The following table represents the yearly values of mineral fuels and oils exported from Indonesia, showing how much exporters have made in the past 5 years. In 2018, exports amounted to $42 billion, followed by $34.1 and $25.5 billion respectively in 2019 and 2020.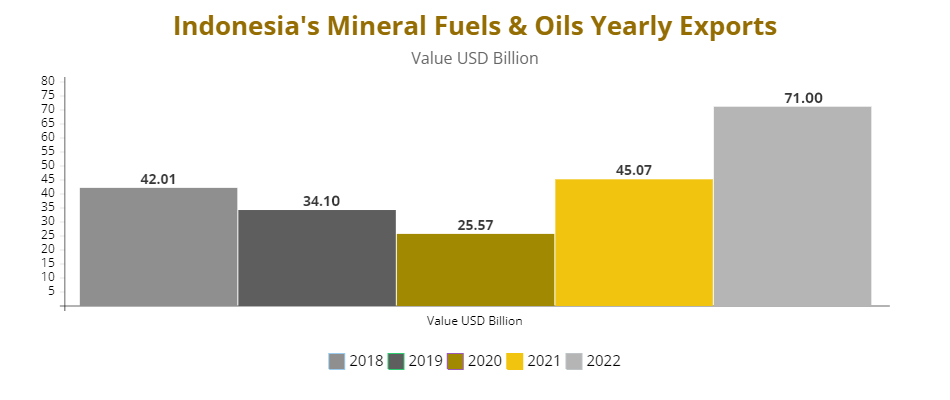 The values of mineral fuels and oils exports increased in 2019, decreased in 2020 but further started to increase in 2021, amounting to a total value of $45 billion in exports and amounted to a total value of exports of $71 billion which was the highest so far for fossil fuel exporters.
This new rule intended to boost domestic foreign exchange supply but was not well received by business groups who complained that these new rules are making it harder to cover operating costs, and Indonesian exporters too complained about not being able to fund the operations.
Indonesian exporters have explained that due to the new rule, they have to keep a significant portion of their earnings aside in the country for a period of three months, resulting in a lack of capital to keep funding their operations to export the commodities to other countries.
Along with the losses to business groups and Indonesian exporters, Indonesia's Coal Miners Association stated that due to falling global prices and surging fuel costs, the profit margins of the coal miners decreased, and this rule will affect their ability to pay contractors and vendors.
New Measures By The Government
Indonesian authorities are working on providing new tax incentives to Indonesian exporters who have kept their earnings onshore by offering enticing returns in order to keep their earnings within the country, but it will be tough compared to the returns offered for offshore deposits.
Indonesia's government have stated that they are working on a banking regulation providing a back-to-back loan provision which allows any Indonesian exporter can save their proceedings in the bank and can use the proceedings later as lending collateral.
Sources claim that the Indonesian government, in conjunction with Indonesia's bank, they are planning to revise the rules and regulations of the central bank implied on the export proceeds to set the government's new export retention regulation with it.
Meanwhile, government officials are advising that companies must keep a specific portion of their earnings aside as capital to fund their operational costs, considering that they do not have access to some of their income for a period of three months due to the new rule.