Denmark has become the first country in the world to import CO2 and bury it undersea. The country has been importing carbon dioxide, but never it has made a step in climate change to create storage and avoid the depletion of the greenhouse gases like carbon dioxide.
As per a new announcement, in the inauguration of a new project, on Wednesday—Denmark will store carbon dioxide 1,800 metres beneath the North Sea. What made this project different from other similar projects is that it will store the carbon dioxide imported from other countries.
Denmark Historical CO2 Imports – Past 4 Years
According to Denmark's import data shown below, in the year 2019, the import of CO2 in Denmark amounted to $13.56 million. The import values have been rising since then as follows: $17.5 million in 2020, $21.5 million in 2021, and peaking highest in 2022 at $24 million value.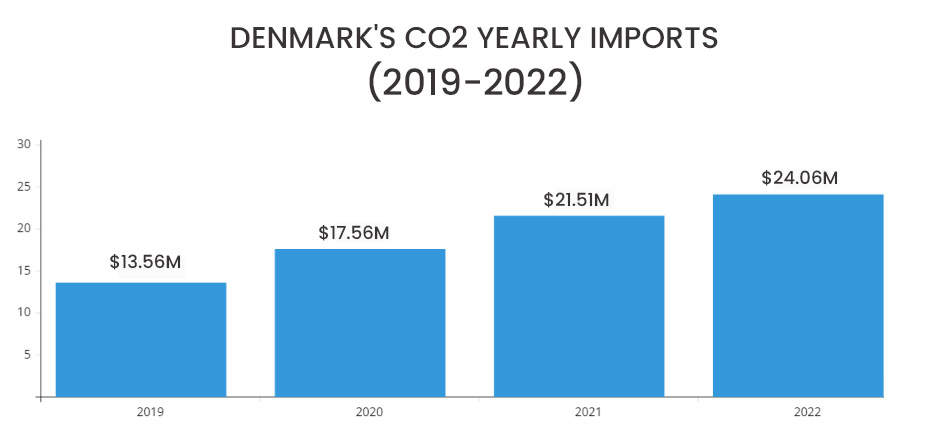 Denmark Import CO2 From Its Partner Countries
As per the represented import data of Denmark 2022, the top importing countries for the importation of CO2 are—Sweden (28.9%), Norway (24.5%), Estonia (19.9%), Finland (11.2%), Hungary (6.2%), Taiwan (1.8%), Austria (1.7%), Italy (1.4%), Germany (1.3%), and Thailand (1.2%).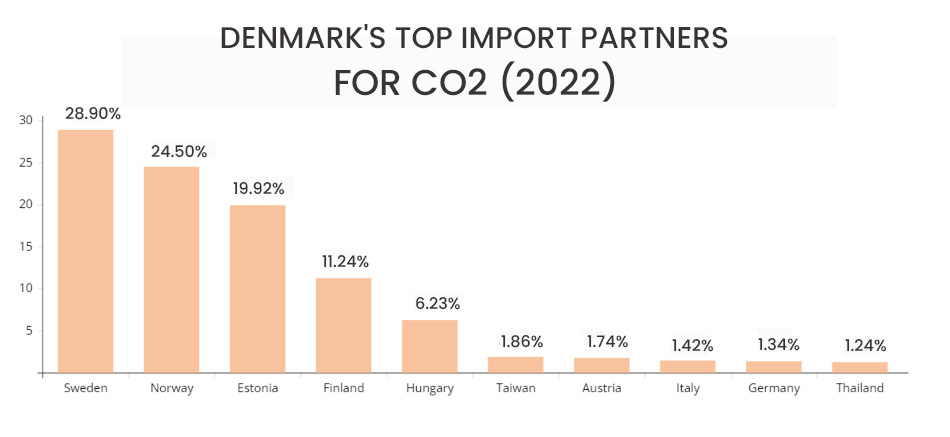 Denmark's Recent Trends Of Import CO2 In 2022
As per the below-shown Denmark imports 2022, the monthly trends of import CO2 by Denmark show that the imports have been fluctuating in an equal range, falling slightly in the lower range from August. November recorded the lowest count, followed by the highest count in December.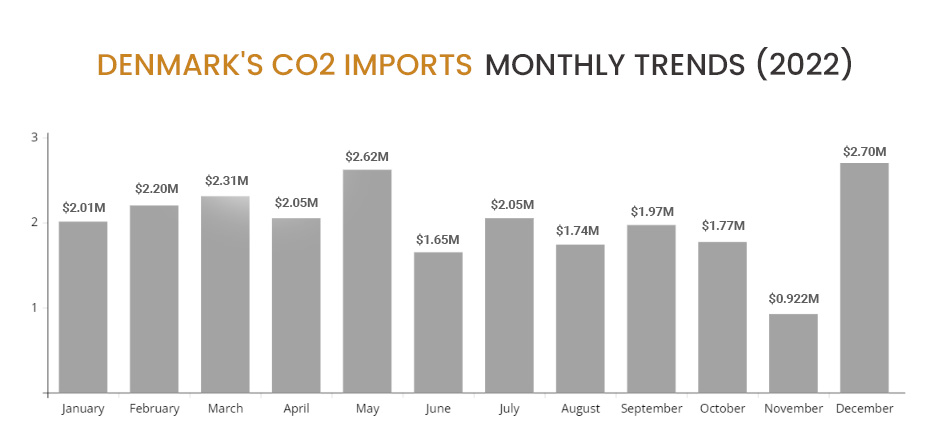 As was observed in the above-represented Denmark import data for CO2 imports in the past 4 years—the value of imports has been rising continuously and with significant growth. The value peaked and stood at its highest in the year 2022 with a total value of $24.06 million.
The project is the first of its kind and will be able to prevent further depletion of the ozone layer from the effects of global warming, resulting from the greenhouse effect. What is being called a 'CO2 Graveyard' is an old oil field which is expected to store up to 8 million tonnes of CO2 by 2030.