Trade between China-Russia two big countries or more than two countries is booming for mutual growth on the go. All the big countries are involved in bilateral trade and it is expected to grow more than ever by decreasing tariffs, import allowances, export limits, and other trade blockades to reassure trade, assets, and investment.
There are business ties up in wide ranges such as goods trade, local connectivity, and other evolving sectors. When it comes to the commodity trading industry, countries have relished an ascendant tendency.
China-Russia Trading Partnership
China is one of its leading trade partners with Russia adding that constitutes the trade of wholesale commodities, including energy and minerals, and enlarging new growth in the digital economy, biomedicine, and e-commerce. Russia is the largest and most developed country. China is gradually also expanding its wings and managing to give good revenues to big countries like Russia.
However, it should be considered that fast trade rises and market revolutions, as happened in 2022, are most probably going to happen again. The common transport and logistics infrastructure involved in Russia-China trade is involved in working out at its present limits. There could be a hike in energy prices as much as last year. As per the trade data analytics, there is a huge probability of having an increase in mutual trade by 15 to 20% at the last of the year.
Indeed, commodity trading between two countries is at the next level and witnessing bizarre growth. Consequently, Russia and China have expanded their common political trust and enlarged their common interests, they are expanding their comparative potential to broaden the marketplace and together create good reach on data for top-notch growth. The energy changeover now underway is an economic and physical transformation that cuts across and integrates the various global food, energy, and resource schemes.
China-Russia Trade Potential
Overall bilateral trade between China and Russia knock out a new record high in 2022, up 30% to $190.3 billion. The strategic growth of trade between Russia and China is constituted in a way for creating a professional partnership stronger. The rise will be continued in 2023 as per the market research. Russia exports to China about worth US Billion $68.68 in 2021, according to global trade.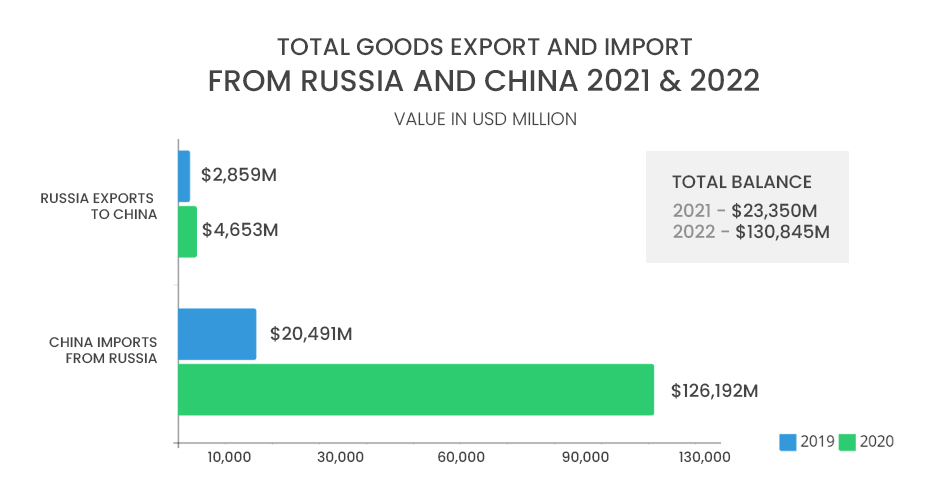 China Imports from Russia
China is supporting to pile up the Russian revenues and it is going great. This step has increased the hope and made sudden growth in the infrastructure of their collaboration in different segments from commodities to other sectors.
Russia's Trade Status In 2022?
Russia's 2022 stats are higher than 2021 and the goods imports from Russia are 13% higher which is approx 21 billion Euros. Russia is presently the 26th largest goods trading partner with $28.0 billion in full goods trade during 2019. Goods export total $5.8 billion; goods import total $22.3 billion.
The Impact Of The War Between China And Russia
China and Russia are both countries that are reliable to each other. Whether it is economic growth, foreign relations, or domestic policies. As per the total trade volume, the straight effect of the Russian-Ukrainian dispute on China is comparatively limited.
Comparing China's bilateral trade with these countries, it is found that Ukraine is only 0.2% of China's total foreign trade and 2.3% with Russia. Though, China's dependability is so high on Russia and Ukraine in terms of commodities imports in the energy, agriculture, and mining segment.
As the conflict between those countries deteriorated, there is also the probability to encourage other sources of energy, grains, and iron ore to compensate for the deterioration in dealing with supplies due to the conflicts between the two countries. China and Russia's collaboration will remain fruitful and will make a big difference in the trade market.